Many people love to complain about what is wrong with the world, but do little or nothing about it. That is not the case with David Hill Jr. of Machine Age Productions. He didn't like the accepted norms of the average fantasy RPG's setting, so he created a completely new RPG system. His new game, called "Farewell to Fear", has raised over $16,000 on Kickstarter, and focuses on bringing political correctness to the RPG fantasy genre. David claims his game is a "Progressive Post-Fantasy RPG". What does he mean by that? Well according to his Kickstarter page:
Fantasy's full of all sorts of legacy concepts that are rather disgusting to us; sexism, classism, racism, institutional violence, those are just a few choice items. Farewell to Fear is a game about revolution, about taking fantasy out of the dark ages through drive and action.

Think punk rock meets fantasy. Bad Religion meets Tolkien, boot to face.
Don't get me started on that last comment. It shows a total lack of knowledge of Tolkien's work or its revolutionary impact on the fantasy genre.
Although the information I can find is rather ambiguous, it seems like the focus of this game will be for players to portray normal people, fighting against political incorrectness and unfairness. I applaud Mr. Hill for spending so much time creating a game that embodies so many of his personal beliefs, but despite my love of new tabletop systems, I don't think I want to play his game.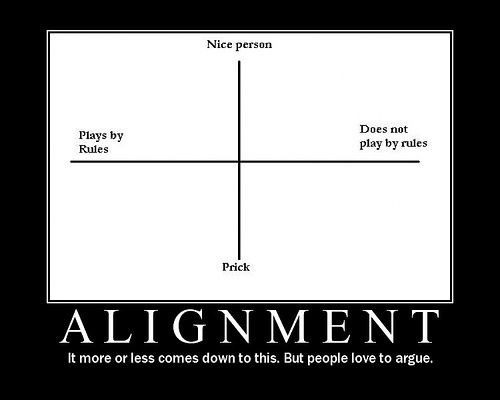 Why? Because it sounds like every other fantasy game out there, only with more limitations on plot, overall creativity, and roleplaying. The entire concept of this system is that the PCs fight against "the man", who we assume is to blame for the sexism, racism, etc. Already that drastically limits the creativity of the GM to create plots because they have to be about social justice. It also drastically limits the types of characters that the players can create because the PCs have to have the desire to fight the wrongs in society, but not be afraid to rebel against the current institutions that are in place. Party conflict and drama is going to be pretty hard to drum up in a group of incredibly similar characters. Maybe they can't agree on whether to fight racism or sexism today?
It seems like the whole "Farewell to Fear" concept would be better suited to be published as an adventure path, rather then a game unto itself. They claim that the scientific method is the inspiration for their main mechanic.
The main game system is inspired by the scientific method. Instead of a huge focus on pass/fail mechanics, we're mostly concerned about finding solutions through conjecture, precedent, and experimentation.
Ok, but how do I hit that guy over there with my sword? The actual dice mechanic spelled out on their Kickstarter page is rather vague, but it doesn't sound very revolutionary to me (unless you've never played anything but D&D). Why design a completely new set of mechanics for something that could easily be used as a skin to lay
over an existing, proven system? If you want something other than a pass/fail mechanic, check out the ORE system. For that you roll for the speed and quality of your action, and it is very applicable to situations like archeological digs, performing music, or very intense combat. Why reinvent the wheel? And how many times are your players going to want to play with that same wheel if you put it on a track with limited customization?
As a woman of mixed ethnicity, I've experience my share of discrimination in my life. I am wholeheartedly against any type of discrimination, hatred, or unfair treatment between players at the gaming table.  A game that could fight the imbalance at the table but still be fun would be truly revolutionary. This game does not fight the inequality that happens to players, it only lets them fight injustices that happen in an imaginary Medieval Europe-based world, which is possible in almost any RPG if the GM wants the story to go that way. In fact, it reminds me of quite a few GM created games that I've played in (and created) for D&D4e, Wild Talents, Traveller, and other systems. (This project's Kickstarter video also claims that peasants in the middle ages studied laws to better their situations, and that women held more power than men… as a Medieval history teacher, I'd love to see their sources for that info…)
My big question? If you are trying to break the traditional RPG mold, why would you choose the most stereotypical setting possible as a foundation? Mr. Hill claims to be improving on the traditional Tolkien fantasy model (sorry… I can't just let that slide) but it sounds like he wants players to behave just like Sam and Frodo. They are normal folk, facing the evils of this world to protect their village's freedom. Or just like Gandalf, who despite being a virtual demi-god, puts the future of Arda in the hands of a minority group (hobbits). Maybe Mr. Hill has forgotten these small plot points, or how Gimli and Legolas broke down the barriers of hatred between their two races and became lifelong friends? Or Eowyn, a noblewoman who successfully kills the Lord of the Nazgul!?!?! I told you not to get me started…
I wish "Farewell to Fear" the best, but given the current information, I see very little that is truly original in this project.